All Eight Performa Biennial Publications
$

320.00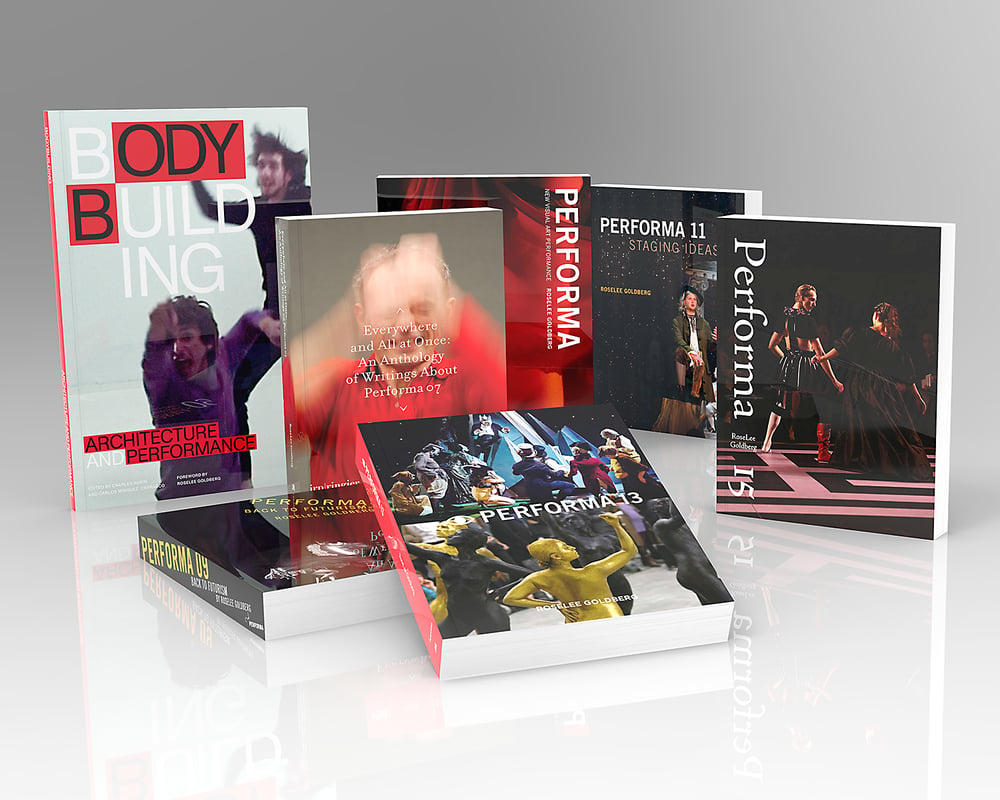 This collection of all eight Performa Biennial publications produced to date spans Performa 05 through Performa 19. These books each provide an overview of current performance practices in contemporary art using the structure of the biennial, as well as the history and geography of the participating artists and collaborating organizations, alternative spaces, and performance sites as a framework.
In stock and ready to ship
On the Town: A Performa Compendium, Performa 19 and Performa 17
On the Town documents the 2017 and 2019 editions of the Performa biennial along with five years of public programs, films and exhibitions touring the globe. Illustrated with performance photos, essays and interviews with the artists, it captures a critical juncture in the evolution of performance.
Performa 15: Celebrating the 10th Performa Biennial
Fully illustrated with works and performance photos, and featuring interviews with the curators and artists, Performa 15 captures a critical juncture in the evolution of performance art and the world's leading performance biennial.
Performa 13: Surrealism / The Voice / Citizenship
With texts by over fifty critics and curators, and photographs by Paula Court, Performa 13 is an invaluable historical document that will provide insight, knowledge, and inspiration for years to come.
Performa 11: Staging Ideas
Performa 11 features documentation by the 150 artists who took part and features photographs of each artist's performance by Paula Court, as well as storyboards, sketches and scripts documenting the artists' creative processes, and ten newly commissioned essays on different themes from the biennial.
Performa 09: Back to Futurism
This beautiful book features creative documentation by the 150 artists who made Performa 09 so extraordinary and vibrant photos of each artist's performance by Paula Court and texts contributed by a range of curators and critics provide accounts of every show.
Performa 07: Everywhere and All at Once
Reflecting the ever–changing nature of the Performa biennials, this book offers an exhilarating view into key themes highlighted in Performa 07 and provides an in–depth look at new performances by some of the world's most exciting visual artists.
Performa 05: New Visual Art Performance
This catalog and historical record of the world's first performance biennial, which took place in New York City in November 2005, is an authoritative introduction to the genre, many forms including radio broadcast, dance, live installation, new technologies, film and video, music, historic reconstructions and lecture–as–performance, and provides a vivid tour through the world of contemporary performance.