Performa 13: Surrealism / The Voice / Citizenship
$

35.00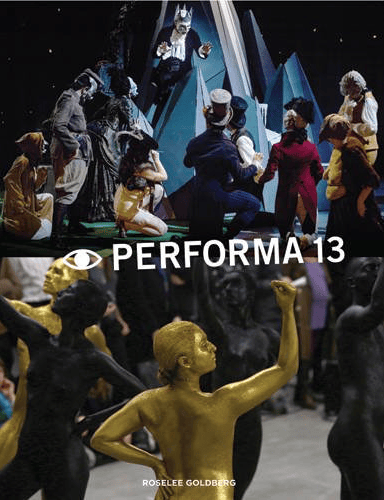 By RoseLee Goldberg. Edited by Kathleen Madden.
Performa 13: Surrealism / The Voice / Citizenship is the definitive publication of the Performa 13 biennial, following as the fifth in a celebrated series that illuminates the commissions, premieres, projects, installations, and lectures from the Performa biennials. In this edition, Performa Founding Director and Curator, RoseLee Goldberg, and the Performa Team bring us inside the Performa 13 biennial, in which over one hundred visual artists from around the world presented live performances at more than sixty venues throughout New York City. From the renowned Performa Commissions program—with ambitious new work by Paweł Althamer, Rosa Barba, Boris Charmatz, Raqs Media Collective, Subodh Gupta, Florian Hecker, Rashid Johnson, Joan Jonas, Ryan McNamara, Eddie Peake, Alexandre Singh, Marianne Vitale, and Tori Wraanes—to the inaugural Pavilions Without Walls, in which the biennial explored the character of contemporary art in Norway and Poland, and including special thematic focuses on ideas of Citizenship, the Voice, and the historic anchor of Surrealism, Performa 13 is an exhilarating look at the state of artists' performance today.
With texts by over fifty critics and curators, and photographs by Paula Court, Performa 13 is an invaluable historical document that will provide insight, knowledge, and inspiration for years to come.
Performa 13: Surrealism / The Voice / Citizenship is co-published with Gregory R. Miller & Co. Publishers, and distributed by DAP.