Performa 11: Staging Ideas
$

35.00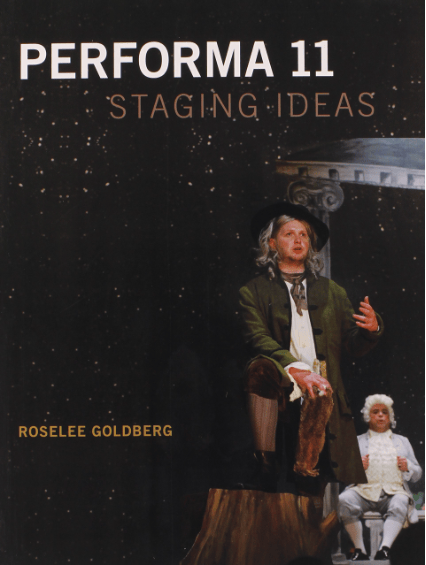 By RoseLee Goldberg.
Edited by Jennifer Piejko. Text by Yulia Aksenova, Defne Ayas, Mark Beasley, Claire Bishop, Boris Groys, Jens Hoffman, Dan Fox, Greil Marcus, Katie Sonnenborn, Sarah Thorton, Alex Waterman, Sue Williamson, et al.
Performa 11: Staging Ideas is the fourth volume in an acclaimed series that draws content and inspiration from the world-renowned Performa biennials. Written by legendary performance art historian RoseLee Goldberg, Performa 11 is the definitive document of the Performa 11 biennial, and features documentation by the 150 artists who took part, including Robert Ashley, Tarek Atoui, Gerard Byrne, Simon Fujiwara, Guy Maddin, Liz Magic Laser, Athi-Patra Ruga, Laurel Nakadate and James Franco, Shirin Neshat, and Frances Stark. The book features photographs of each artist's performance by acclaimed photographer Paula Court, storyboards, sketches and scripts documenting the artists' creative processes, and ten newly commissioned essays on different themes from the biennial, including language, Russian Constructivism, Fluxus, comedy and the relationship between visual art and theater. Performa 11 is a beautiful document of a remarkable biennial, as well as an invaluable reference guide to some of the most significant performance artists of our time.